Cats play an important role in humans' lives, and cat photography has become very popular recently. Some cats are incredibly active and impatient, and they have a hard time sitting still and waiting while you take cat's photography. This is why it is so important that you use your imagination to showcase your cats.
With the help of my kitty Simba, I picked out 52 simple tips and tricks you can use for photographing your cat or kitten. These are designed to help you make your cat pictures brighter and more attractive.
It doesn't matter whether you are a beginner or an advanced cat photographer – you may find some useful information here, from capturing a brilliant moment in your kitty's life to how to photograph your cat more efficiently and make professional cat pictures.
So, here are the cat photography tips and tricks:
1. Be ready
To make good pictures of cats – keep your camera charged and your memory cards empty. Your camera should be as close to you as possible so that you can take a cat photo whenever the opportunity arises. You never know when a unique and lovely situation may present itself and turn into a perfect cat photography.
2. Be patient
The key to brilliant, cute cats pictures is patience. It doesn't matter what pet you have, because photographing cats requires a great deal of patience. Some cats are scared of cameras; others, on the contrary, are not. Be patient in taking pictures of cats, and eventually, you'll have fascinating cat images.
3. Define your cat photography style
Analyze the cat photography of people you are following. Whose incredible cat photos do you like most of all? Take a close look at good cat pictures that caught your eye. What exactly impressed you about them?
A good idea is to capture screenshots of your favorite cat photos (not to use them afterward, but for clarity). You can add them to great cat photos album and try to figure out what common factors they share.
4. Analyze the personality of your pet
What concerns tips on how to take a good photo, first of all, think about what makes your cat different from the rest – maybe your cat is always sleepy and imposing, or perhaps it's frisky and playful. Or, maybe yours is curious and always on the run. In this case, it would be better to take cat photos at the local park, while your pet runs about and plays with other animals.
Moreover, your cat may have some external distinguishing features. For example, perhaps your cat is constantly sticking out his or her tongue, or maybe he or she has an especially narrow chin.
5. Plan the photo shoot
Do you want to know the main secret of a stylish cat photo shoot? It's all in the planning. Many photographers take a series of photos at a time, and then they share them over a week – or even over a month. It helps lead your blog steadily, attracting new followers, and it's especially effective when you don't have time to take new cute cat photos.
Check it out:
Bonus: Get access to a free PDF version of this post + Infographic + Checklist. Includes all 52 photography tips.
6. Context of the photo
One of the main tips to take a beautiful photo is to choose a place where your cat feels comfortable and at ease. Sometimes the best ideas for taking kitten pictures are the most simple: a field of green grass, a room with white walls and perfect lighting, etc.
Kitten pictures with a background are 29% more popular than kitten pictures without one.
7. It's better to have a helper
If you decide to take cute cat pictures, ask someone for help. It's convenient to have somebody run with the cat, or to have someone making noise with the cat's favorite toy to make your funny pet look at camera.
8. Disable the camera shutter sound
If you have a silent shooting mode, go that route. Sounds, in addition to the camera flash, may scare your pet and spoil your cat photography.
9. Take a lot of cat photos
You can't be absolutely sure you'll have a good cat photo. Thus, you should take a series of shots so you can pick the best one later. According to my statistics, it may take anywhere from 15-30 minutes to several days to take a good cat picture. A pet is the most willing to be photographed 30-60 minutes after the beginning of the shoot.
10. The flash
I recommend shooting during the day. The only exception is if your cat's fur is dark (black). In this case, it will absorb the light from the flash and add gloss to the photo.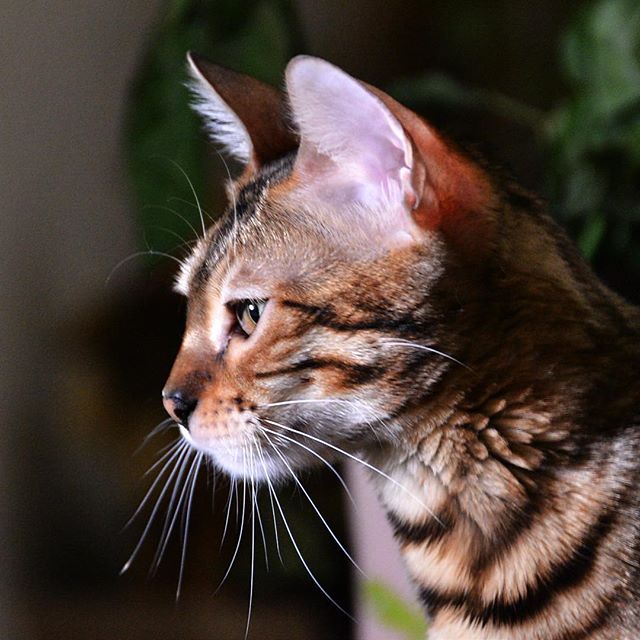 11. Object-glass
Cats can be rather big, but some are tiny – just picture a newborn kitten! If you're working with a young kitten, you should use a special portrait object-glass to be further from the aim.
12. The sun is behind you
To get good cat pictures, make sure that the sun is behind you and the light is on your pet's face.
13. Use daylight
Always try to shoot during the day. Avoid using the flash – it may cause a red-eye effect, and it can also terrify your cat. Instead of using the flash, try to go outside, and if possible, take cute kitty pictures near the window in a room with perfect light.
14. Eyes should be sharp
The eyes are always very expressive, so their being sharp is important – especially in cat portrait photography. Pictures of cats eyes are usually magnificent so they attract people's attention.
15. You and your cat should be at the same height
It's important to be at the same height as your pet. Otherwise it will look like you are taking pictures from 2-3 stories above him or her. Lie down, or even sit down, and take your cat's photo at eye level.
Pin This Infographic
16. Follow your pet…but don't make your pet follow you
Pets come in all shapes and sizes, but cats are definitely smaller than humans. As a result, pets may become imperceptible in photographs if you don't make an effort to approach them. Comfort is important for both humans and pets, and that's why you shouldn't make your cat follow you – follow your cat instead. Don't stay in the same place, and make sure to take funny cat images and action photo from all different angles.
17. Predict your pet's behavior
For a perfect photo, you should understand your pet. If you predict its actions and behavior, you can plan and take excellent cat images!
18. Freeze!
Even if your cat was napping, the expression on his or her muzzle may disappear in just a moment. In this case, you should use one of the automatic (or "auto") camera modes.
Alternatively, you can use "sport" mode, which means the fastest shutter speed suitable for the situation. Make sure the camera is always ready. It's also recommended to take a rapid series of photos in sequence.
19. Involve other people
One of the best things you can do to add context to a picture cat is involving other people in your pet's life (family members, friends, etc.). This will make your cat photography more soulful.

20. Effect of focal length and zoom
Take your good cat pictures from different distances and with different focal lengths.
21. Be playful to get their attention
Kittens are usually playful, and it's best not to restrain their natural behavior. Let them do what they want and participate their games – you can make friskiness and curiosity the focal element of your character (I often use this key to make picture of my cat).
22. Be invisible
If your pet is engaged in his or her business, you can capture priceless funny cat photos by taking your pet by surprise. For example, take a picture of your cat digging up a bone in a flowerbed. While you're photographing, your pet may have forgotten all about you, and this will help you take more natural shots.
23. Make sure there's sufficient contrast between the pet's fur and the background.
It'll help to catch an eye on your photo and to focus on your pet immediately. Otherwise people can simply skip your photo.
24. Yawning pets
When people see yawning cat photos, they think the photographer was lucky to have captured the image. But in my experience, when cats wake up from a long nap, they yawn about 30 times. So, it isn't all that difficult to take a suitable yawning cat picture.
25. Sleeping cat photography
Turn off the sound on your camera to capture funny sleeping moments with your your cat. Cats can sleep in all conditions and lots of weird positions, some of which appear strange to us but are normal for them. At the same time, even if your cat looks like he or she has fallen into a deep sleep, even the smallest of sounds can wake them up. So, be quiet, and don't make any sudden movements. If your cat awakens, there's no repeating that funny sleeping pose and you can loose the moment for a perfect sleeping cat photography. But don't be upset, you can use the moment, for example, to make a picture of cat eyes!
26. Keep your distance
When you see your cat playing, either alone or with another person, don't bother him or her. Just find a good place nearby and get ready for a series of good cat pictures.
27. Show your pet's character
There's no doubt that you know your pet best of all. So, try to show its character through the photo. Show your cat yawning when it's sleepy, and try to capture a unique action shot while your cat is playing. Moreover, it's you who knows how not to take picture of your cat!
28. Take a close-up portrait
Fill the entire shot with the furry face of your pet. These photos are often very beautiful. And you can say with proud "It's a picture of my cat!".
29. Surprise them!
The secret is to allow your cat do whatever he or she wants. And as soon as you are ready to take a photo, call your pet, or ask somebody to make some noise (like whistling or clapping). The noise will capture your pet's attention, and you'll have a second or two to catch the moment on camera.
30. Don't be afraid to experiment!
Take a lot of cute cat photos! Later you'll have time to check the results and save the best ones. Take your time and enjoy your photo shoot with your cat.
31. Change your camera perspective!
Change the perspective of your camera to take photos from both above and below your cat, and from both the front and behind him or her.
Use your imagination to create different cute cat images that focus on your favorite parts of your pet – and from different angles, too. Variety is key here, and you may end up with more than one suitable shot if you play your cards right.
32. Brevity
Photo shoots with your pets should be brief. If you haven't taken any good cat pictures right at the beginning of the shoot, do not be discouraged. Use one of the taking photo tips – consider postponing the shoot until later, since your pet may become bored going in for your favorite hobby.
33. High brightness
Try to take photos during the day. Cute cat images with a high brightness are 24% more likeable.
34. Cool shades
Kitten pictures with blue and green shades are 24% more likeable than predominantly red images.
35. One-color domination
Basic one-color shots are 17% more likeable than multicolor photos.
36. Low saturation
Low-saturated pictures of cats are 18% more likeable than middle and high ones.
37. Texture
Cat pictures with visible texture are 79% more likeable than photos without texture.
38. Snapshots with faces are more popular
Photos with human or pet faces usually get 35% more likes.
39. Silhouettes and shades
Keep an eye on silhouettes and shades. Sometimes they may help catch incredible funny cat photos.
40. Don't feed your pet before taking active snapshots
Don't feed your pet right before taking funny cat images while running or taking cat jumping pictures.
41. Wide-angle lens or GoPro
If you need funny cat photos, you can use a wide-angle lens or GoPro.
42. Shot from the reverse side of the window
Cat photography can be very spectacular if you and your pet are on separate sides of the window.
43. Cat selfies
Of course your pet can't take a selfie on its own, but you can achieve the same effect by using your imagination. The only thing you need is your cat looking right at the camera with an outstretched paw. It will look just like a cat selfie!

For mobile cat photography
44. Make sure that your device is fully charged and has plenty of memory available.
45. Do not rush!
46. Only use the Standart app for photographing cats.
47. Take a series of cute cat pictures and choose the best one later.
48. Take horizontal photos – they are much better.
49. The best filter is no filter at all. But if you use one, your best options are Amaro, Hudson, X-Pro II and Inkwell.
50. Press the shutter only when the shot is well-defined.
51. Take as many cat photos as you can, but don't forget how easy it is to run out of memory. Make sure to leave space for the "best" shot.
52. A monopod can offer stability if you are outdoors.
Conclusion
I began to post Simba's photos on Instagram 4 months ago. I want to share with you the knowledge I've gained during this time, it helped me improve cat photography tips and make friends with many people. I hope this information will be useful, and that you'll be able to apply it.
To make perfect cat photography You should listen to expert advice, test their ideas yourself and constantly learn new things. My name is Andrei Salokhin, and I've done my best to reveal all the tricks.
Don't be lazy — analyze your cat photography!
I extend my friendship and offer my help to all my new visitors. If you have questions about this cat photography tips, make sure to become my Subscriber & Enroll for my FREE 9-Day Email Course!
Thank ­you for Reading!
Here's what to do next…
Send me a message in comments to let me know what you think of this post.
I want to ask you for just one thing: Share it with your friends!