One of the fastest ways to increase the popularity of your cat's account on Instagram is to choose the correct hashtags. Using the correct cat hashtags you increase the number of views of your posts on Instagram.
You may think it's rather complicated, but it's actually quite simple.
My step-by-step instructions on how to choose the correct cat hashtags for 2017 are the easiest and the best way to find out the following:
How to choose key elements that attract the users' attention.
How to choose popular hashtags to include within minutes​ of creating a post.
How many lists of hashtags you need to prepare for one post.
Which popular groups of hashtags you need to use in order to give the accounts of these groups the opportunity to repost your photo.

In this post, I will tell you how to choose the correct Instagram cat hashtags in just a few quick steps. For your convenience, I divided the material into 8 parts + tips and tricks on how to use cat hashtags effectively.
Bonus: Download this post as a PDF + step-by-step instruction with the algorithm for making the 1st and 2nd lists of hashtags you should use (not included in this post). [+You'll also become my friend!]
TABLE OF CONTENTS
---
What is a cat hashtag, and how does it apply to Instagram?
Why use cat hashtags on Instagram?
How many hashtags should you use for each post on Instagram?
How to add hashtags correctly to a post on Instagram?
How to make a list of hashtags invisible?
How to organise your lists of cat hashtags?
How to choose the correct hashtags to grow your cat's Instagram account?
Use my examples of cat hashtags for all cat breeds.




8 TIPS AND TRICKS ON HOW TO USE CAT HASHTAGS EFFECTIVELY:
---
Today, it is difficult to find a person who has never heard of hashtags and does not have the slightest idea how to use them. Cat and kitten hashtags are no exception, because cats have become an unspoken symbol of Instagram, and as a result, we see cat hashtags on a frequent basis.
However, some users may have a misconception about hashtags. Therefore, in this article, I will detail what a hashtag is, how to choose cat hashtags that match your cat's account and how to use them correctly.

So, let's begin!

↑ TOP

What is a cat hashtag, and how does it apply to Instagram?
It's a (#) symbol and the next word or phrase, consisting of letters, numbers and/or Emojis without spaces. At first they may seem insignificant, but Instagram cat hashtags are one of the main tools you should use to promote your cat's account.
The main reason for this is that hashtags categorise content. While using cat and kitten hashtags, you beat right into the bullseye so that your target audience can find you.
Hashtags are a way for people to find a specific topic. Consequently, using Instagram cat hashtags is a perfect way to bring traffic to your photos.

Why use cat hashtags on Instagram?
Hashtags are key when it comes to the visibility of your posts. Use hashtags for cats, and not only your followers, but other users who look through the feed for this hashtag, will see your post.
Choose a cat hashtag, click on it and see the feed with photos to which this hashtag was added. Hashtags help users to find content with the topics they are interested in so they can follow those accounts.
Picking the right hashtags for your cat's photos will result in a wider audience of interested users, who are more likely to follow your cat's Instagram account (if you have high-quality and interesting cat photos).
Interested users, in turn, will result in more likes, comments and overall engagement with your account. All these factors will raise your cat account's rating and once again increase the rate at which your audience views your posts.
Of course, hashtags for cats are not a panacea, and you should not think that adding a couple dozen good kitten hashtags to your photo will make your cat's account popular on Instagram. No, the process of promoting the account is a scrupulous job, and hashtags are the first way to appeal to your audience. Relevant hashtags allow new users to find you.
How many cat hashtags to use for each post on Instagram?
Now we will concentrate on the number of hashtags for cat lovers. According to research, a post with at least one hashtag receives more engagement than a post without any hashtags. Instagram allows up to 30 hashtags per post. And this is the figure that I recommend you aim for when creating new posts.
The more hashtags about cats you use, the bigger the audience you reach. But at the same time, you should not only chase quantity. In addition, you should always pay special attention to the quality of your kitten Instagram hashtags and how well they match your photo.
It is better to use a smaller number of hashtags, with a series of hashtags that best match your photo. You need to decide how many and which hashtags to use, depending on the photo.
It is also worth noting that many users consider hashtags annoying (most likely, they do not understand their value, but still). As a result, I recommend hiding them. I'll tell you how to do this and how to choose the correct hashtags below.

How to add cat hashtags correctly to a post on Instagram?
Hashtags can be added in 2 ways:
in the caption
as a comment
I recommend adding only the most popular cat hashtags on Instagram to the caption within 2-3 minutes of publication (for example, #cat #catsofinstagram, #instacat). That way your post will appear in the feed of these hashtags immediately after publication. Do not lose precious time during which your post will move farther down in the feed. After 2-3 minutes, remove these popular cat hashtags since they will already be meaningless.
In all other cases, I recommend not placing hashtags in the caption, but in the first comment below the post.

This is why:
First of all, hashtags make the caption visually heavier. Without hashtags, the description looks much better.
Second, in the comments you can specify the maximum number of hashtags (30). If there are more than 30 hashtags, Instagram will not allow you to publish the comment.
Third, you can quickly delete a comment. For example, if you decide to change the group of hashtags for cat, it's much faster to do it as a comment, which you can delete immediately, and then insert a new one, prepared in advance, with a new group of cat hashtags for Instagram, rather than deleting the hashtags one by one in the caption.
To add hashtags as a comment, prepare your list in advance and copy those that match your photo the most. Immediately after publication, paste this group of hashtags in the first comment (aside from a few popular hashtags over the first few minutes in the caption).
It is important to make a comment with the hashtags immediately after posting the photo, so that your photo appears in the hashtags' feed as soon as possible. This will reach a wider audience.
Bonus: Download this post as a PDF + step-by-step instruction with the algorithm for making the 1st and 2nd lists of hashtags you should use (not included in this post). [+You'll also become my friend!]
How to make a list of hashtags invisible?
I've already mentioned that hashtags can be annoying for other users, but they are one of the keys to promoting your cat's account. Therefore, I'm going to give you a trick so that you can hide your cat and kitten hashtags! That way they won't look spammy.
Do not put a space after each dash or dot; otherwise they will not go with a new line (press enter immediately after the dash or the dot)!
So, if you post hashtags in the comments, other users will only see […] in the comment after your username in the photostream, after a few comments are left to your post. And only the users who click on "read comments" will see your full comment.
Act the same way when you place hashtags in caption. Skip the line after caption, and in the same way after 5 dots or dashes, with a new line each, post a group of hashtags. I remind you once again, do not put a space after the dot or the dash, otherwise it will not work!
As a result, other users will only see the beginning of the caption in the feed, and only if they click "More" – and the kitten hashtags at the end.

How to keep your lists of cat hashtags organized?
I've mentioned above that it is best and more convenient to prepare groups of hashtags for your photos in advance. You should choose hashtags categories of all cat hashtags based on the context of the photo, the event the photo is associated with, the day of the week, etc.
That is why it is best to prepare groups of 30 (or fewer) cat hashtags for Instagram, depending on the photos you are going to post. Save them for yourself in order to use them at any time.
For example, I created such groups of hashtags for my cat lady as:
TOP 30 cat hashtags,
hashtags with the names of the most popular groups relating to cats on Instagram,
hashtags to post over the weekend,
cute cat hashtags,
hashtags for a cat outdoors, etc.
It's up to you to decide where to store your groups of hashtags. For me it's convenient to use notes on my Iphone. So, I simply copy and paste a suitable group of cat hashtags when I make a post.
You can also use Google Sheets to organize your hashtags. Google Sheets looks like Excel, but is more mobile-friendly, and as we know, we can only post on Instagram from our mobile phones (except for some paid programs, but that is a completely different topic).
Attention: If you use notes, save hashtags categories right away in order to hide them, namely, as I described above – with 5 dots or dashes and NO SPACE after each one, and each with a new line before the group of hashtags.
Do not be lazy, and make sure to spend some time creating a comprehensive, systematic note with Instagram hashtags categories in order to significantly save time in the future, because all you need to do is simply copy and paste cat hashtags you've chosen.
If you prepare various categories of Insta hashtags for your shots, and if you use the step-by-step instruction which I made especially for you, you will spend only a few minutes deciding which hashtags are best to use for your posts!
How to choose the correct hashtags to grow your cat's Instagram account?
When you have to choose cat Instagram hashtags, the golden rule is to use only hashtags that are relevant to your photo and target audience.
While you run your cat's account, carefully study and choose good cat hashtags for Instagram with the words that best describe your cat.
After analyzing the hashtags, I divide them into 2 groups:
Cat hashtags
General hashtags
Top 30 cat hashtags:
#cat #catsofinstagram #cats #catstagram #instacat #catlover #catoftheday #ilovemycat #blackcat #catlovers #lovecats #catsagram #instagramcats #instacats #caturday #crazycatlady #mycat #catlove #cutecat #kittycat #catlady #ilovecats #catsofig #catlife #cats_of_instagram #catwalk #cat_features #catholic #catofinstagram #persiancat
Top 30 general hashtags:
#love #instagood #photooftheday #beautiful #tbt #happy #cute #fashion #followme #me #follow #like4like #picoftheday #selfie #summer #friends #instadaily #girl #fun #art #repost #smile #instalike #tagsforlikes #food #nature #style #family #igers #likeforlike #nofilter
Use general hashtags to make sure your posts are in the general search – especially in the first few minutes after publishing your post.
Also use the hashtags which are known to drive audience growth:
#followme, #follow, #tagsforlikes, #repost, #likeforlike, #follow4follow, #follow4follow, #FF, #instafollow, #l4l, #tagforlikes, #followback, #instafollow.
People who use these hashtags are more loyal when it comes to mutual following and likes, so you may call them cat hashtags for likes.
When choosing hashtags pay special attention to unique features of your cat (for example, the color of cat's fur). You should emphasize his special features with the help of hashtags. For your convenience, here are the examples of the most popular hashtags:
Black cat hashtags:
#blackcat, #blackcats, #blackcatsrule, #blackcatclub, #blackcatsofig, #blackcatlove, #blackcatsofinstagram, #blackcatsclub, #blackcatsaregoodluck, #blackcatlovers, #blackcatsrock, #blackcatlover, #blackcatstagram, #blackcatsarethebest, #blackcatofinstagram
Ginger cat hashtags:
#gingercat, #gingercats, #gingercatsrule, #gingercatsrock, #gingercatsofinstagram, #gingercatsofig, #gingercatnation, #gingercatlove, #gingercatsarethebest
Fat cat hashtags:
#fatcat, #fatcats, #fatcatsofinstagram, #fatcatlife, #fatcatproblems, #fatcatlove, #fatcatsrule, #fatcatfriday, #fatcatsofig
Video cat hashtags:
#catvideo, #catvideos, #catvideooftheday, #catvideosofinstagram, #videocat, #videocats, #videocatstagram
To choose the hashtags you may use the Instagram search feature: bengal. It's quite easy to use: enter the hashtag you are interested in (for example, "#cat" or "#bengal"), and the service will immediately give you a list of hashtags for your request with the number of posts below. The most popular requests will be in the first 20 results.
Add these hashtags within 2-3 minutes after you publish your post, as the posts with these hashtags immediately go down in the search due to the number of people who publish posts with these hashtags. Then, change them to less popular hashtags that are more specific to your photos.
Your choice of which hashtags to use depends on the audience your post is targeting.
When you post, select hashtags that reflect the essence of your photography.
For example, if you post a photo of a sweet, cuddling kitten, you'll have different hashtags than you would for a photo that shows your pet sitting in a backpack on a trip. In these 2 cases, your hashtags and audience are different, although some people may be the same.
You can also examine the all cat hashtags used by Instagram influencers of your cat's breed (or the breed your cat looks like). If you run a cat account for some time, you probably already know the most popular accounts of the same breed or similar cats.
Anyway, always pay attention to popular accounts of similar cats in the feed; make sure to examine which breed hashtags and general cat hashtags they use, and try to use them yourself.
I remind you once again that the key to success is the variety of good cat hashtags for Instagram you use. And at the same time, keep track of which hashtags receive the most and least likes. Try your best to use more relevant hashtags in order to attract more likes.
Use my examples of cat hashtags for all cat breeds.
In addition to the general search on Instagram and examining what hashtags influencers use in your niche, you can use hashtags from the ready-to-use lists for breeds, which I have prepared specifically for you.
Just choose the proper hashtags based on the breed of your cat (or the breed your cat looks like) and copy these Instagram cat hashtags.
Note that I chose the most popular hashtags for cat breeds. Here they are:
Persian cat hashtags:

#persiancat #persian #persians #persiancats #persiankitty #persiankitten #persianlove #persian_cat #persiancatsofinstagram #persiankittens #persiansofinstagram #persiancatlovers #persiancatlove #persiancatstagram #persiancat_feature #persiancatlover #persiancatsofig #persianchinchilla #persiancatofinstagram #persian_cat_lovers #persiancatoftheday #instapersian
Sphynx cat hashtags:

#sphynx #sphynxcat #sphynxofinstagram #sphynxlair #sphynxtagram #sphynxlove #sphynxkitten #sphynxclub #sphynxlife #ifitisntasphynxitsjustacat #instasphynx #canadiansphynx #sphynxcats #sphynxoftheday #sphynxworldwide #sphynxcommunity #sphynxdaily #ilovemysphynx #sphynxlovers #ownedbyasphynx #sphynxfamily #sphynxsquad #sphynxlover #sphynxbaby #sphynxstagram #sphynxswag #sphynxcatsofinstagram #sphynxkittens #lovesphynx #donsphynx
Russian Blue cat hashtags:

#russianblue #russianbluecat #russianblues #russianblueworld #russianbluesofinstagram #russianbluecats #russianbluemix #russianbluekitten #russianbluecatsofinstagram #russianbluekittens #russianbluekitty
Manx cat hashtags:

#manx #manxcat #manxcats #manxofinstagram #manxworld #manxkitten #manxcatsofinstagram #manxlife
Birman cat hashtags:

#birman #birmancat #sacredbirman #birmansofinstagram #sacredebirmanie #birmankitten #sealpointbirman #birmanlovers #birmans #birmancats #birmanoftheday #birmano #birmancatlove #gattobirmano #holybirman #sacrodibirmania #birman_feature #birmancatsofinstagram #birmanlover #birmankitty #birman_cats_lovers #birmanofinstagram #birmankitties

↑ TOP

Bombay cat hashtags:

#bombaycat #bombaycats #bombaycatlove #bombaycatsofinstagram
Maine Coon cat hashtags:

#mainecoon #mainecooncat #mainecoons #mainecoonstagram #mainecoonsofinstagram #mainecooncats #mainecoonkitten #mainecoonlovers #mainecoonofinstagram #mainecoonlover #mainecoonmix #mainecooninstagram #instamainecoon #mainecoonkitty #lovemainecoon #mainecoonkittens #mainecoonoftheday #mainecoonlove #mainecooncross #mainecoonbaby #mainecooncatsofinstagram #mainecooncattery #instamainecoons #mainecoon_id #mainecoon_feature #mainecooncorner #mainecoonlife #mainecoongram

American Shorthair cat hashtags:
#americanshorthair #americanshorthaircat

Singapura cat hashtags:
#singapuracat #singapuracats
Domestic shorthair cat hashtags:

#domesticshorthair #domesticshorthaircat #domesticshorthairs #domesticshorthairsofinstagram
Devon Rex cat hashtags:

#devonrex #devonrexcat #devonrexkitten #devonrexofinstagram #lovedevonrex #devonrexes #ilovemydevonrex #devonrexesofinstagram #devonrexkittensfriends #devonrexlover #devonrexcats #devonrexlove

↑ TOP

Scottish Fold cat hashtags:

#scottishfold #scottishfoldcat #scottishfolds #scottishfoldlovers #scottishfoldsofinstagram #scottishfoldkitten #scottishfoldcats #scottishfoldofinstagram #scottishfoldloversofinstagram #scottishfoldlover
Turkish Angora cat hashtags:

#turkishangora #turkishangoracat #turkishangoracats #turkishangorasofinstagram #angoracat #angoracats

Ocicat cat hashtags:
#ocicat #ocicats #ocicatsofinstagram #ocicatsoftheworld
Ragdoll cat hashtags:

#ragdoll #ragdollcat #ragdollsofinstagram #ragdollkitten #ragdolls #ragdollcats #ragdollcatsofinstagram #instaragdoll #ragdollofinstagram #ragdolllovers #ragdollkittens #ragdollkitty #ragdollcatlovers #ragdollworld #bluepointragdoll #ilovemyragdoll #ragdollclub #ragdolllove #sealpointragdoll #ragdolloftheday #flamepointragdoll #ragdoll_feature #ragdollsofig #ragdollbreed #ragdollsoninstagram #ragdollstagram
Abyssinian cat hashtags:

#abyssinian #aby #abyssiniancat #abyssiniancats #abyssiniansofinstagram #abyssinianblue #abyssinians #abyssiniankitten #abyssinianlovers #abyssinian_feature #abyssinianofinstagram


↑ TOP

Norwegian Forest Cat hashtags:
#norwegianforestcat #norwegianforestcatsofinstagram #norwegianforestcats

Egyptian Mau cat hashtags:
#egyptianmau #egyptianmaus #egyptianmausofinstagram
Oriental cat hashtags:

#orientalcat #orientalcats #orientalcatsofinstagram #orientalcatsworld #orientalshorthair #orientalshorthaircat #orientalshorthairofinstagram #siameseandorientalcats

Munchkin cat hashtags:
#munchkin #munchkins #munchkincat #munchkincats #munchkinlove #munchkinlovers #munchkinkitten #munchkincats #munchkinkitty #munchkinsofinstagram

American Curl cat hashtags:
#americancurl #americancurlcat
Siamese cat hashtags:

#siamese #siamesecat #siamesecatsofinstagram #siamesecats #siamesemix #siameseofinstagram #siameseandorientalcats #lynxpointsiamese #siameseworld #siamesetabby #sealpointsiamese #siamesetabbydomination #siameselovers #siamesekitten #siamesekittens #siamesecatlovers #instasiamese #flamepointsiamese #ilovemysiamese #redpointsiamese #siamesecatspot #bluepointsiamese #siameselove #siameseofIG #siamesecatsoninstagram #siamesecatofinstagram #gattosiamese


↑ TOP

Nebelung cat hashtags:
#nebelung #nebelungsofinstagram #nebelungcat
Snowshoe cat hashtags:

#snowshoe #snowshoecatsofinstagram #snowshoecat #snowshoesiamese #snowshoecats #snowshoekitten #snowshoekitty

La Perm cat hashtags:
#laperm #lapermcat
Bengal cat hashtags:

#bengal #bengalcat #bengals #bengalsofinstagram #bengalkitten #bengalcats #bengalcatworld #bengalcatsofinstagram #snowbengal #igbengals #instabengal #bengallove #bengalsofig #bengalkitty #bengalworld #bengal_cats #bengal_feature #bengallife #bengalbaby #bengallover #bengalofinstagram #bengalkittens #bengalkatt #bengal_cat

Turkish Van cat hashtags:
#turkishvan #turkishvancat

Burmilla cat hashtags:
#burmilla #burmillacat #burmillasofinstagram

Japanese Bobtail cat hashtags:
#japanesebobtail #bobtailcat
Cornish Rex cat hashtags:

#cornishrex #cornishrexofinstagram #cornishrexcat #cornishrexcats #cornishrexkitten #cornishrexcatsofinstagram

↑ TOP

Siberian cat hashtags:

#siberian #siberiancat #siberiancatsofinstagram #siberiankitten #siberianforestcat #siberianforestcatsofinstagram #siberiankitty #siberiancats #siberiancatofinstagram #siberiankittens #siberiankittensofinstagram

Chartreux cat hashtags:
#chartreux #chartreuxcat #chartreuxlove #chartreux_feature #chartreuxcats
British Shorthair cat hashtags:

#britishshorthair #britishshorthaircat #britishshorthairs #britishshorthairkitten #britishshorthaircats #bluebritishshorthair #britishshorthairblue #thebritishshorthaircat #britishcat #britishcats #britishcatsofinstagram #britishshorthairworld #britishshorthairlovers

Peterbald cat hashtags:
#peterbald #peterbaldcats #peterbaldcat #peterbaldsofinstagram

Somali cat hashtags:
#somali #somalicat #somalicats #somalicatsofinstagram
Savannah cat hashtags:

#savannah #savannahcat #savannahcatsofinstagram #savannahcats #savannahkitten #savannahkittens #savannahsofinstagram #savannahs

Korat cat hashtags:
#koratcat #koratcatsofinstagram

Selkirk Rex cat hashtags:
#selkirkrex #selkirkrexofinstagram #selkirkrexcat


↑ TOP

Tips and tricks on how to use cat hashtags effectively.
#1. Always check how relevant the hashtags are, and how the hashtags match your photo. The cats' niche on Instagram has a fairly large number of hashtags, but you should use them carefully, since there are both general hashtags (for example, #catstagram, #instacat, #catlover, #catoftheday, #ilovemycat, etc.), and hashtags for special occasions or for photos with special content (for example, #caturday, #tongueouttuesday, #whiskerswednesday, etc.). I'm sure you agree that it would be unsuitable to use #tongueouttuesday on Friday, as this is inappropriate and will only irritate other users.

#2. Use specific and niche hashtags. Remember that the more specific the hashtags you use, the more targeted audience you get. And a targeted audience results in higher-quality engagement, because these are the users who are initially interested in your cat.

#3. When using a cat hashtag for the first time, double-check that it means exactly what you intend. Enter the hashtag into the search and view the photos associated with it; make sure they match your assumptions. This is especially true for hashtags which are the combinations of several words.

#4. Note that general popular hashtags are far from the perfect hashtags for you! A substantial number of photos are posted with general popular hashtags every second, and if you use only the most popular hashtags, your photos will quickly disappear from the view of your potential followers. So, popular hashtags are not the best hashtags for your cat. But do not underestimate the importance of popular hashtags. When they're relevant to your cat photo and used sparingly, popular hashtags can boost engagement in the first few minutes after posting. But remember that popular hashtags should be used sparingly, and only during the first 2-3 minutes after posting; then it's important to replace them with less popular ones, but those with which your post will be much more noticeable.

#5. Alternate the hashtags. It does not make sense to use the same hashtags every time you post. Obviously, using different cat related hashtags will allow you to cover a wider audience, and increase your chances of having your posts seen by as many users as possible. Everyone who searches for the cat related hashtag you used will see your content. This is one of the main tools of attracting followers and increasing engagement.

#6. Remember, only the hashtags you leave work in your post. If other users write hashtags in the comments, your photo won't appear in the feed of those hashtags. Similarly, it makes no sense for you to leave hashtags in your comments to other users, unless the user will find your hashtag useful and then add it to his post.

#7. Choose a group of hashtags and copy it in advance before you post. You should do this because the post appears in the hashtag's feed at the time of publication, and not at the time of adding a hashtag. Do not waste time, because these can result in priceless views and potential followers!

#8. Hashtags will work for you, provided that they complement the high-quality photo you post! Users are viewing the hashtag feed, and will only pay attention to your profile (which should stand out from the rest of the feed) if you have high-quality photos! The right hashtags, in turn, will allow you to make the most of your high-quality photos.

↑ TOP

Conclusion
The proper choice of hashtags and the correct posting methods are useful when it comes to making your cat's Instagram account more popular.
Do not be lazy – make lists of hashtags for different situations in which your cat may be!
I hope this information is useful for you, and that you'll be able to apply it to your cat's Instagram account.
If anything remain unclear, don't hesitate to contact me. I will answer your questions with pleasure!
I'm looking forward to reading your questions and comments.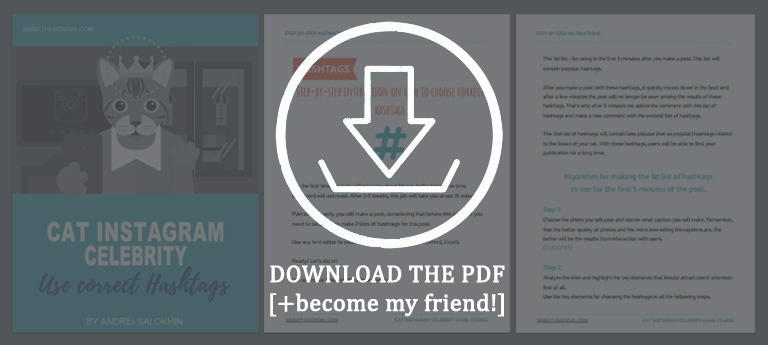 P.S. I have prepared free step-by-step instruction on how to choose the correct hashtags for you. It contains 11 points, and can be read in just 5 minutes. >>DOWNLOAD IT<< and apply every step to increase your followers!